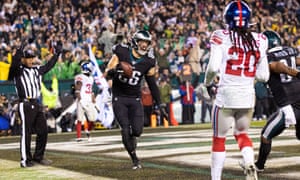 Carson Wentz threw a two-yard touchdown pass to Zach Ertz with 5:10 left in overtime as the Philadelphia Eagles rallied from a 14-point deficit to post a much-needed 23-17 victory over the visiting New York Giants on Monday night.
Ertz was wide open in the center of the end zone while corralling his second touchdown pass of the contest as Philadelphia snapped a three-game losing streak. Wentz completed 33 of 50 passes for 325 yards and two scores as the Eagles (6-7) moved into a tie for first place in the NFC East with the Dallas Cowboys (6-7). Ertz, who had nine receptions for 91 yards, also caught the tying touchdown pass with 1:53 left in regulation.Eli Manning completed 15 of 30 passes for 203 yards and two touchdowns in his first start since Week 2 for the Giants. Manning played in place of rookie Daniel Jones, who was sidelined due to an ankle injury. New York (2-11) never touched the ball in overtime while matching the franchise mark of nine straight losses, set in 1976. Rookie Darius Slayton caught five passes for a season-best 154 yards and had two touchdowns for New York, who were outgained 418-255.
Philadelphia lost standout right tackle Lane Johnson (ankle) and receiver Alshon Jeffery (foot) to injuries in the second quarter.